Most Recent CD
Download PDF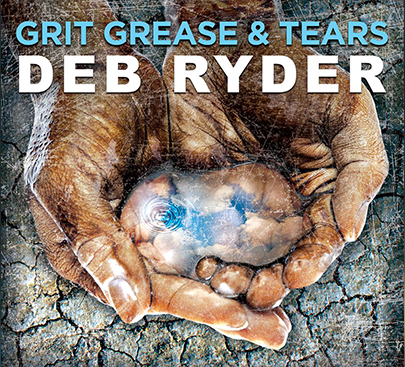 Deb Ryder is regarded as one of the best up and coming singer/songwriters in the blues world today. Born outside Chicago, Deb was influenced at an early age by the music of the city, and by her father, a Chicago club sensation. She began appearing on stage as a young teen at her step father's famous nightclub
The Topanga Corral
, where she opened for such blues legends as
Etta James
,
Big Joe Turner
,
Taj Mahal
and
Bob Hite
to name a few. It was there that she honed her style as a blues performer. These experiences and the influence of the iconic blues greats are indelibly etched in her writing and vocal style.
Grit Greats & Tears
is the third studio album from blues great and multi award nominee
Deb Ryder
, featuring twelve new original songs that stand together as a testament to her spirit and commitment to the genre. The record covers a broad spectrum of styles and is a sonic journey full of energy, and serving up a savory blend of R&B, soul, funk and roots based blues as only Deb can deliver. Her critically acclaimed powerhouse vocals are supported by the mastery of a Grammy Award winning producer
Tony Braunagel
, and an A-list group of musicians. Grit Grease & Tears offers Deb Ryder's signature arrangements and impeccable songwriting. You can expect her to continue to imprint her mark on the blues world now and in the future.
This Disc is available at www.debryder.com, as well as: