Album Overview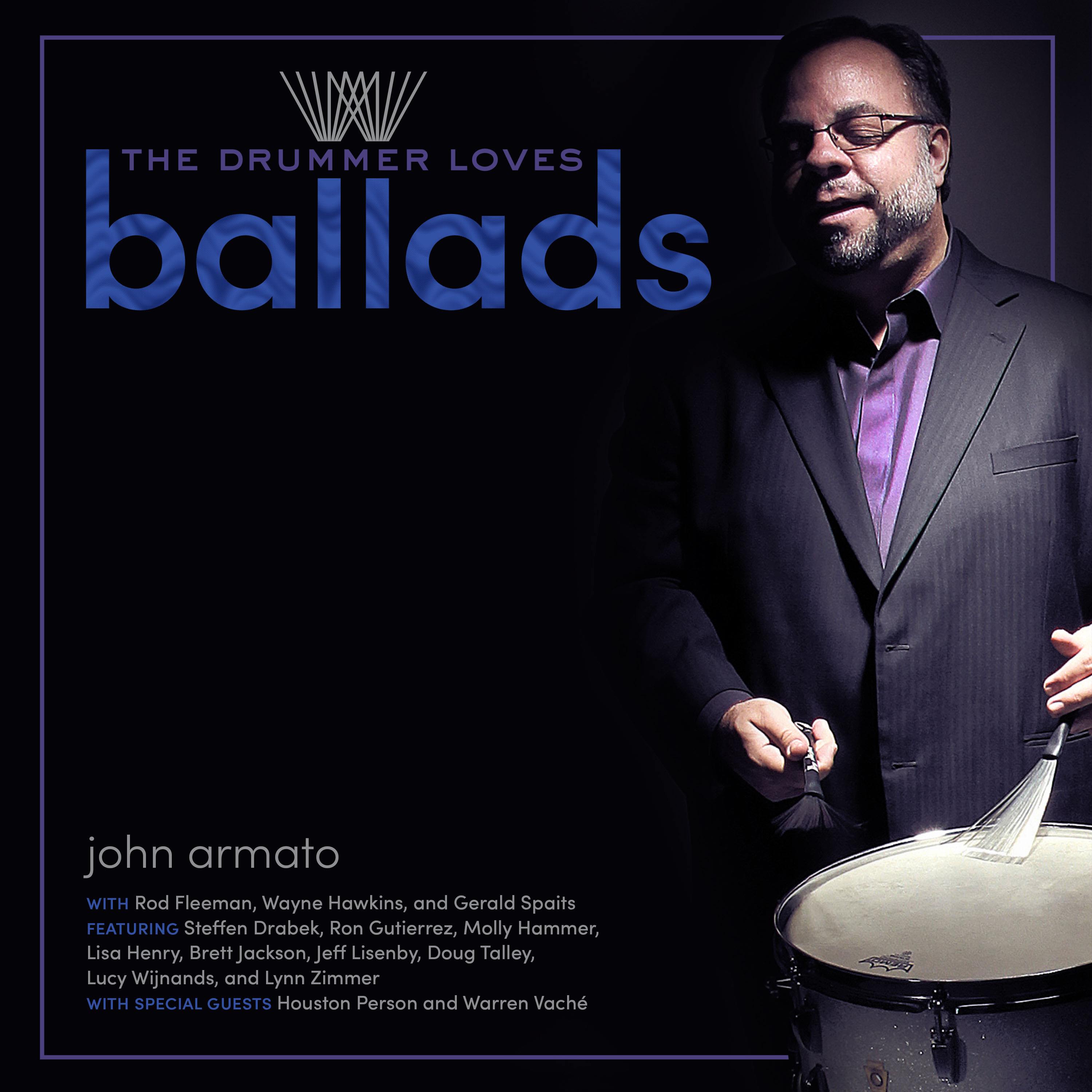 "The Drummer Loves Ballads" is the debut album of John Armato. It is a unique full-album listening experience featuring extraordinary music, musicians, and moods, produced and engineered by some of the industry's top talent.

The album was designed to be a new soundtrack for lazy Sunday afternoons, romantic evenings, or melancholy midnights, but you'll swear it's a long-lost jazz favorite. It features more than 25 musicians, including the legends Houston Person and Warren Vache. Together they've created an album that is as rewarding to listen to closely as it is relaxing to listen to casually.

From intimate quartet settings to sweeping orchestral arrangements, "The Drummer Loves Ballads" (TDLB) wraps bittersweet stories in sophisticated rhythms, and it is a beautiful thing, indeed.

TDLB includes tributes to two beloved Kansas City musicians, the late Steve Patke and the late Kerry Strayer. It debuts an original tune commemorating the Trocadero, a now-forgotten jazz club in Kansas City that was a favorite destination for Armato's parents when they were dating. Three spoken-word tracks provide a narrative arc to the tunes and bring alive a personal backstory that set the album in motion nearly 40 years ago.

The song list includes music written or made famous by Henry Mancini, Benny Goodman, Horace Silver, Ahmad Jamal, Gerry Mulligan, John Williams, Alan and Marilyn Bergman, and other greats. At the core is a quartet that is occasionally complemented by lush string and wind arrangements courtesy Paul Roberts. Wayne Hawkins is on piano, Rod Fleeman is on guitar, Gerald Spaits is on bass, and Armato is the drummer who loves ballads.

Person and Vache headline a guest artist line-up that includes vocalist and Thelonious Monk Institute veteran/International Jazz Ambassador Lisa Henry, renowned clarinetist Lynn Zimmer, the late Jeff Lisenby (American Accordion Hall of Fame), Ron Gutierrez in a vocal duet with the late Molly Hammer, the warm bari sax of Brett Jackson, the "cashmere" tenor of Doug Talley, the gypsy-jazz viola of Steffen Drabek, and the stirring new vocal talent of Lucy Wijnands, 2021 winner of the prestigious Ella Fitzgerald Vocal Competition.

TDLB was produced by veteran touring and recording artist (and fellow drummer), John Cushon. It was recorded by Justin Wilson of Sound81. Additional tracking was engineered by Pete Millrose (with legendary vocalist Anne Phillips overseeing the Person/Vache session), and Keaton Comiskey. It was mixed and co-produced by six-time Grammy Award winner Howard Lindeman and mastered by the master himself, Greg Calbi of Sterling Sound.

The combination of traditional in-studio recording techniques, modern technology, not to mention some of the finest ears on earth, results in an album with the warmth of a classic jazz LP but with contemporary clarity and depth.